Blackout Roman Blinds by Natalie Canning - The Soft Furnishing Experts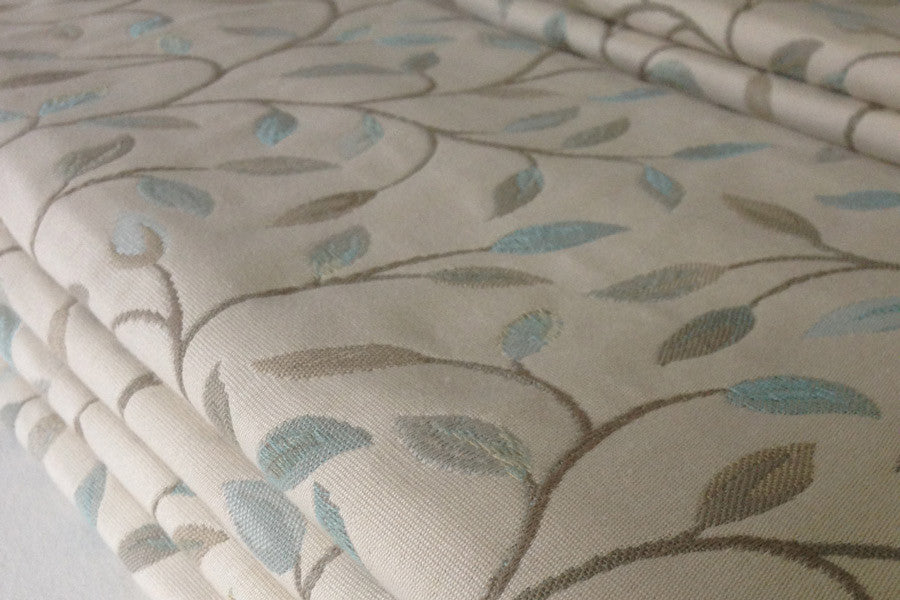 DETAIL:
Beautiful duckegg blue fabric was used to create these two hand sewn roman blinds. The blinds were for a bedroom and the client wanted them to be as blacked out as possible.  We used bonded blackout lining as interlining, then blackout lining on the back to ensure no light could pass through the whole width of the blind.
CHECKING FABRIC: 

We always check our fabrics before we begin.
ONE OF THE MANY STAGES: 

Skilfully applying hidden velcro to secure the top of the blind.
HAND FINISHED AS WE ARE A LITTLE BIT SNOBBY ABOUT OUR ROMAN BLINDS: 
Hand stitched seams for a professional and high quality finish.
READY TO GO: 
Just needs to be carefully packaged for delivery. 
JOB COMPLETE!
To keep up to date with our latest News please copy the following url into your RSS feed reader: https://nataliecanning.co.uk/blogs/news.atom
At Natalie Canning – The Soft Furnishing Experts, we take great pride in designing and producing, the most beautiful and unique curtains and blinds.  I am always available in my Suffolk work room to discuss ideas and requirements.  All of our soft furnishings are hand made to the highest standards using traditional skills and craftsmanship.  Contact me directly on 01379 668170 or natalie@nataliecanning.co.uk.
Natalie Canning