Introducing New Hand Embroidered Fabrics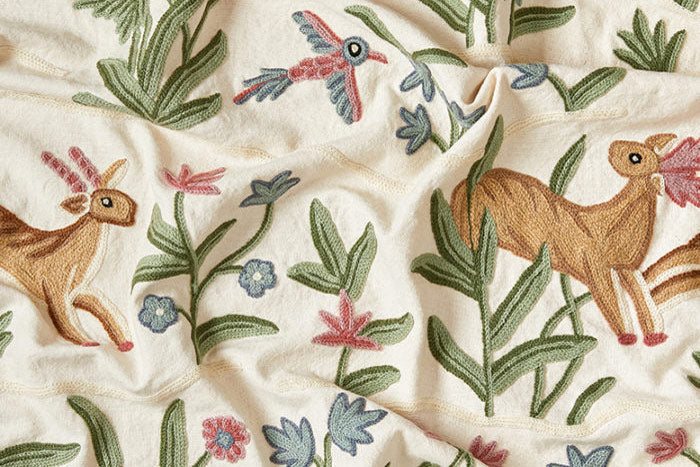 We are delighted to welcome Welland & Wye, boutique seller of hand embroidered fabrics.  
Here we take a bit of time to get to know owners and sisters Eleanor Baker and Frances Barber, find out about their business and ask for their top tips for choosing the perfect fabric.
NC:  How did you start a business selling hand embroidered fabrics?
W&W: We have a long term relationship with the family in Kashmir who supplies our fabric. Our mother, Interior Designer Jan Baker, first visited them twenty years ago and began importing their crewel and we have worked together ever since. 
Dufour - on trend colour palette
NC: How challenging is it purchasing fabrics from so far away?
W&W: It is so much easier now than it used to be! We all have mobile phones, and Whatsapp is such a great tool. We send each other photographs practically every day, so we can really keep up to speed with the process.
The major challenge is time - we try not to place our suppliers under undue time pressure because transporting the fabric within India and then overseas is time-consuming and there are always unexpected delays. We try to be a step ahead of the logistics by keeping a higher than usual level of stock in the UK.
NC:  Tell us how your business is working towards a better future.
W&W: We are committed to being as eco-friendly as possible. We use sugar cane recyclable bags for our samples and recycled non-bleached paper for our admin. Our fabrics are made from natural fibres and dyed using azo-free dyes and we plant trees (on our own properties, where we can maintain them) to offset our air miles.
We are also providing work for the skilled artisans In Kashmir and keeping alive the local tradition of craftsmanship in that region by creating a market for their work. 
Finally, our waste fabric and offcuts are sold via The Haines Collection, so nothing goes to landfill. 
 A selection of the beautiful embroidered fabrics
NC:  What is the most exciting part of your journey so far?
W&W: We love seeing where our fabric ends up; the master bedroom at Berkeley Castle in Gloucestershire was a high point. We also have a couple of production companies using our crewels in some upcoming Netflix dramas, which we are not allowed to mention! 
NC:  What is the process when you are working with a customer?
W&W: We work with trade customers and direct to the consumer. As we don't have a showroom, we like to send out large returnable samples in the post so the customer can really see the pattern and the colours in their own home. We will often offer advice on colours or make suggestions on which samples to order, and we always like to have a chat about someone's project! Then it is simply a matter of cutting the fabric, packing it up and shipping it out! 
Tara - sophisticated and contemporary
NC: Had to ask…what are the pros and cons of sisters working together?
W&W: Pros - we don't waste any time with niceties which makes us very efficient!
Cons - we don't take enough time to do fun things or reward ourselves for our successes. Now I'm asking myself why we haven't ever had a strategy meeting in a spa??? 
NC: How do you find time to relax?
W&W: We have 3 children each aged 6, 9, 10, 11, 12, 13, so relaxing is usually doing something fun with them. If the children aren't around Eleanor will be running with her dogs and Frances will be walking with hers! We are both big readers and often swap book recommendations.
NC: What are your top tips for anyone purchasing hand embroidered fabrics?
W&W: Get samples! Not all hand-embroidered fabric is the same and the quality varies hugely. There are a lot of 'twiggy' crewel designs available on the Internet which are cheap. They are often embroidered with 1-ply wool instead of 2-ply, the designs are based on trailing brown twigs and they are not very nice!
Also embrace the unique and hand-finished provenance of your product. Our suppliers do an amazing job considering the quantity of fabric they produce, but they are not machines and the designs are not printed by computer. It really doesn't matter if you don't have a perfect pattern match on your seams - In fact, it is part of the joy of the fabric. 
NC: Thank you for your time, Eleanor and Frances, and for answering our questions about your unique fabric business.  You can follow their journey on Instagram @Wellandandwye and view their latest fabric ranges on the website wellandandwye.com.
We are delighted to be new stockists of Welland & Wye's hand embroidered fabrics and have a selection of samples available to view in our Suffolk studio.  Please contact us to make your appointment by email or call 01379 668170.
Main image fabric by Welland & Wye - Rajouri
Natalie Canning