Why Natural Fabrics For Country Home Interiors?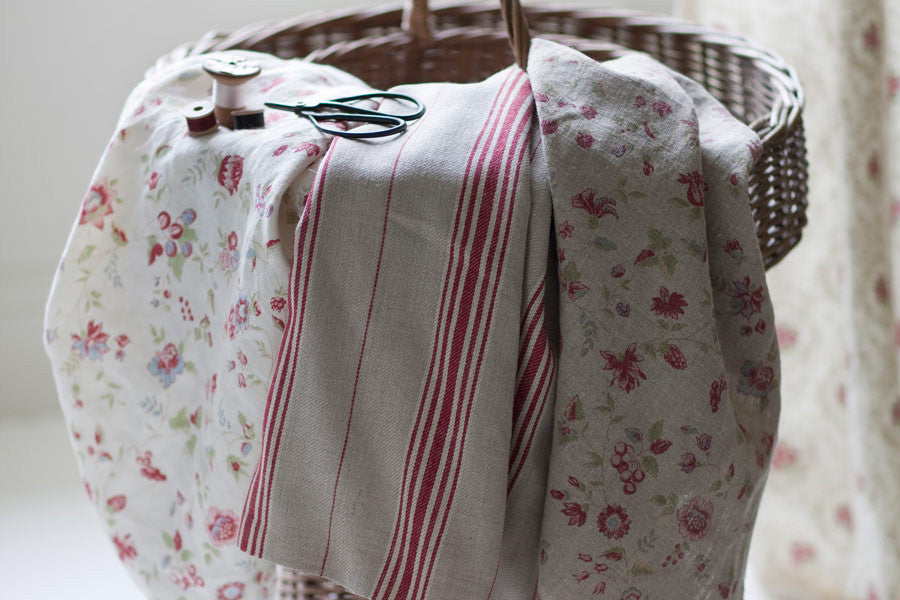 At Natalie Canning, we specialise in natural fabrics for country home interiors.  Often I am asked why did you choose natural fabrics?  The truth is the fabrics chose me!
When I first began as a professional in the world of soft furnishings, I quickly realised two things:
1.   I wanted to provide beautiful fabrics that my customers would fall in love with.
2.   I wanted the fabrics to be the highest quality, easy to sew and able to create exquisite end results.

Contrast lined curtains using Woven Linen Ticking - old blue
I began by purchasing one fabric book at a time. I carefully chose fabrics that I hoped my customers would like but always considered how the fabric would sew and hang. Most of my customers live in charming country homes and their favourite fabric books always seemed to be the linen, cotton and silk ones.  The look, drape and feel of these natural fabrics just works so perfectly for curtains and blinds and is the ideal compliment to the many features often found in country homes.
So that is why we specialise in natural fabrics for country home interiors, I really had no other choice!
To keep up to date with our latest News please copy the following url into your RSS feed reader: https://nataliecanning.co.uk/blogs/news.atom
At Natalie Canning – The Soft Furnishing Experts, we take great pride in designing and producing, the most beautiful and unique curtains and blinds.  I am always available in my Suffolk work room to discuss ideas and requirements.  All of our soft furnishings are hand made to the highest standards using traditional skills and craftsmanship.  Contact me directly on 01379 668170 or natalie@nataliecanning.co.uk.
(All fabrics shown in images supplied by Inchyra)
Natalie Canning