Five Top Tips for Choosing the Best Fabric for Curtains and Roman Blinds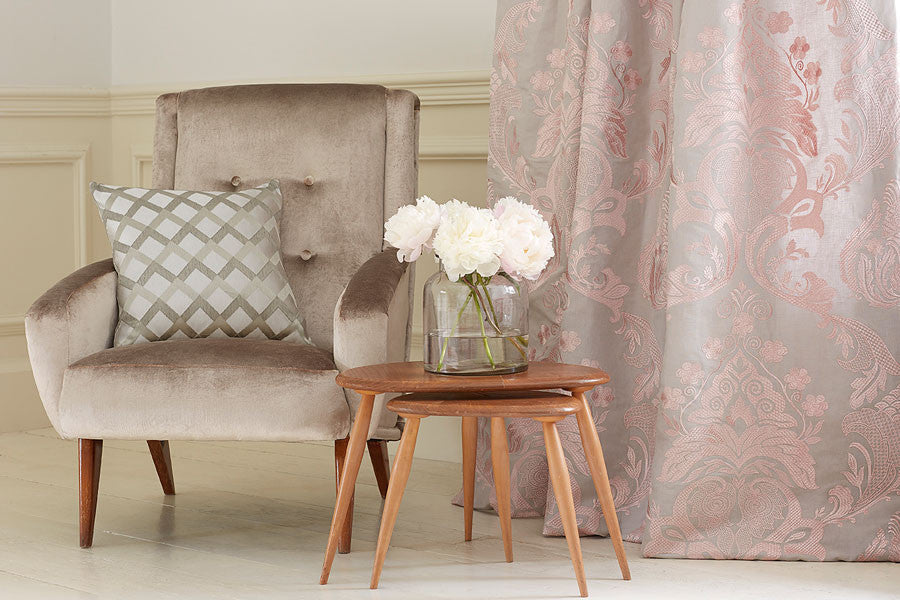 How to choose fabric for your curtains and roman blinds can sometimes be quite a daunting challenge! At Natalie Canning we understand the importance of this decision so I wanted to share my five expert top tips for finding the best fabric for your curtains and roman blinds:
1.   CONSIDER THE LOCATION
If the window is in a sunny location, does your curtain or blind fabric need to be thick enough to reduce some of the light?  Would you prefer a lightweight material offering privacy but still allow the light to come through?
Silk fabric is always a luxurious choice but will rot if exposed to sunlight. Always interline and line silk curtains or roman blinds.
Is the window draughty?  Heavy weight curtain or blind fabrics help reduce draughts.  Lighter weight materials may still be used but it would be advisable to line and interline them.
What is the style of the room?  Country home or contemporary? Consider patterns and colour.
2.   CURTAINS OR ROMAN BLINDS?
A heavy cotton fabric will hold its shape beautifully in a roman blind, whereas a lightweight fabric will appear more floppy and potentially lose shape over time.
If the material has a pattern consider how it will look on the finished item e.g. if the pattern is large, will you see enough of it in your chosen window dressing?
Far more fabric is required for making curtains, than roman blinds see 3. below.
3.   THINK ABOUT YOUR BUDGET
If you are trying to keep your costs down, I would recommend that you buy inexpensive fabric for making curtains but have them lined and interlined for that luxury feel.  A more expensive coordinating fabric can then be used for smaller items e.g. cushions or roman blinds to complete the overall scheme.
4.   MEASURE
Always measure your windows with a metal rule.
Measure once, write down the amounts, then measure again to be sure.
Always check the width of the fabric you are going to buy as these can vary greatly.
Please use these links to see our measuring guides for How to measure for curtains and How to measure for roman blinds.
5.   ALWAYS LOOK AT A FABRIC SAMPLE
Before you buy your curtain fabric or blind fabric, it is always best to order a fabric sample.  This allows you to see and feel the material before you make a decision to buy.
If you are buying curtain fabric or blind fabric, hold your fabric sample up to the light in the position you would like it to be. For all soft furnishing fabrics place the fabric sample next to any other colours and patterns that will be used in the room.
At Natalie Canning - The Soft Furnishing Experts, you may order up to five free fabric samples (+ small postage) and we offer expert advice if required.  Why not take a look? 
To keep up to date with our latest News please copy the following url into your RSS feed reader: https://nataliecanning.co.uk/blogs/news.atom
All of our soft furnishing fabrics can be made (by you or us) into beautiful hand sewn curtains, blinds, cushions or most other soft furnishings of your choice. If you have any tips or comments you would like to add to this blog, I would love to hear from you.
(Pictures from James Hare, Inchyra, Sears)
Save
Natalie Canning