Jane Means Talks Christmas Gifts Using Natural Country Style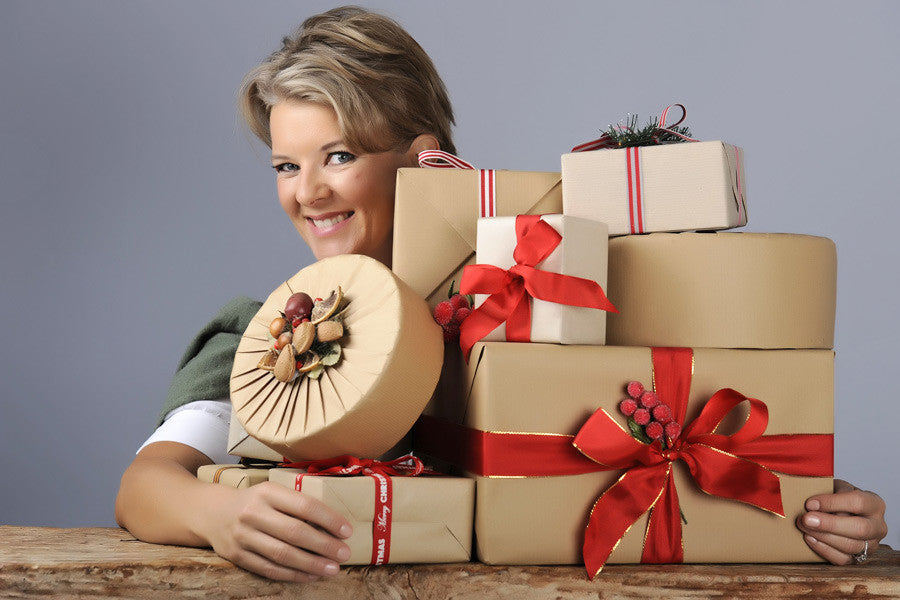 Jane Means is Britain's expert on how to wrap gifts and is known as the "Gift Wrap Guru!"
Jane designs her own range of beautiful ribbons, runs specialist courses and has a long list of highly prestigious clients. The festive season is possibly Jane's busiest time so I am very grateful that she has taken some time out to share some of her top Christmas Gift ideas!
Natural Country Style Christmas Ribbon
"I've noticed this year that many of us are on tight budgets during the festive season, however it's a great excuse to give token gifts with thought and effort. Several years ago I gave small hampers with wine and cheese which went down extremely well. I also used to give away jars of my grand mothers home-made marmalade, and accessorise it with brown paper and raffia which everyone loved, yet it was an inexpensive present.
Natural Fabric Raffia Ties
Although I love home-made cakes I have very little time to make them myself, so this year I will be picking up cakes from farmers markets and WI stalls and transforming them into masterpieces that look as though they have come from a prestigious delicatessen. Just by popping them in a tin wrapped in brown paper with decorations will look spectacular.
Natural Country Style Creates a Perfect Gift
They always say it's the thought that counts, so this year give away your time instead. Simple Christmas cakes and puddings can be bought from supermarkets, then wrapped and decorated with festive foliage to make a beautiful gift.
Gorgeous Festive Ribbon
SIMPLY SWEET
To me a box of homemade cheese straws or biscuits would mean so much more than an impulse buy at the till. Wrapped beautifully with brown paper and raffia it will go down a storm."
Jane Means
Visit Jane's website to see her wonderful ribbon collections, read about the workshops and learn about her various clients. 
To keep up to date with our latest News please copy the following url into your RSS feed reader: https://nataliecanning.co.uk/blogs/news.atom
At Natalie Canning – The Soft Furnishing Experts, we take great pride in designing and producing, the most beautiful and unique curtains and blinds.  I am always available in my Suffolk work room to discuss ideas and requirements.  All of our soft furnishings are hand made to the highest standards using traditional skills and craftsmanship.  Contact me directly on 01379 668170 or natalie@nataliecanning.co.uk.
 (Main picture by YouTube)
Natalie Canning