How to Choose the Perfect Curtain Pole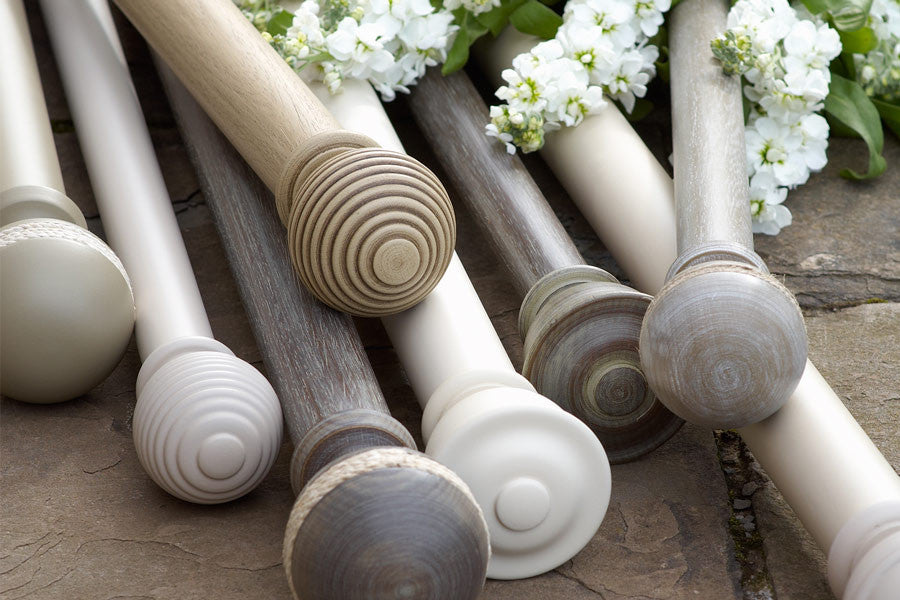 A carefully chosen curtain pole is not only functional, it will enhance your windows with individual style providing many years of enjoyment and satisfaction.
Follow our short checklist to help you make the perfect decision.
1. Is there room for a pole?
Height: The pole should sit approximately 10-12cms above your window recess to allow plenty of room for brackets and ensure the curtains hang from a pleasing position.
Width: The pole should extend either side of the window recess by approximately 20-30% of the recess width e.g. if window recess is 100cms wide then the pole should be 20-30cms longer so overlaps by 10-15cms on each side.
Finials (decorative ends of pole): Remember to check the finial sizes and ensure there is room for these too.
TOP TIP: Most poles can be cut down so always buy slightly longer if unsure.
2. Is the pole strong enough to hold my curtains?
Are my curtains made in a heavy fabric? Are they full length? Are they interlined?  Are they blackout lined? Are they weighted?
All these factors contribute to the overall weight of your curtains.  A slim width pole is unlikely to to cope with anything other than a light weight lined only curtain.
TOP TIP: If unsure, contact your supplier, they should always be able to help.
3. Does the pole work with my room colours, style and fabric choice?
Is my style soft and muted tones?  Be inspired by Byron & Byron's tasteful collections.
Is my style rustic country cottage?  Take a look at Made by the Forges' iron poles with their unique qualities and lifetime guarantees.
Is my style contemporary and minimal?  The simple yet elegant lines of the Bradley Collection could be the answer.
TOP TIP:  Use home style magazines and social media for inspiration!
Need more help with making your decision?
Please call or email me on 01379 668170 or natalie@nataliecanning.co.uk. I would love to help!
To keep up to date with our latest News please copy the following url into your RSS feed reader: https://nataliecanning.co.uk/blogs/news.atom
You may also be interested in the following:
Five Top Tips for Choosing Curtain and Blind Fabric
How do I measure for curtains?
How do I measure for roman blinds?
(Images from Inchyra and Sweatband Active.)
Save
Save
Save
Save
Save
Save
Save
Save
Save
Save
Save
Save
Save
Save
Save
Save
Save
Save
Save
Natalie Canning